Who We Are:
State and Municipal Action for Results Today / Agenda for Legislative Empowerment and Collaboration (SMART ALEC, Inc.) was founded in March 2016 as a nonprofit corporation in the State of Oregon.  We are tax-exempt as a charitable organization under section 501(c)(3), Federal Employee Identification Number 81-1864253; and we currently registered to do business in both Oregon and Georgia.
Our Mission Statement:
SMART ALEC promotes progressive public policy solutions at the local and state levels.

Our areas of focus are affordable housing, democracy, and the environment, with a special emphasis on improving the lives of low-income and homeless people.
We do this through developing equitable policy solutions for local replication, and by empowering marginalized communities to make a meaningful difference in the democratic process.
Our Story
In 2016, Matthew Charles Cardinale, Dr. Dwanda Farmer, and Sherise Brown were having much success working on a new version of Affordable Housing Impact Statements, an ordinance that Cardinale had drafted as part of a Law School project, which was adopted in Atlanta in 2015 and New Orleans in 2016.  Several other jurisdictions began considering the AHIS ordinance.
Cardinale decided it would be ideal to continue working with other jurisdictions on progressive organizations, and to incorporate an organization that could house this work.  The idea was to provide a progressive response to the conservative American Legislative Exchange Council (ALEC), which would be different not only in substance, but in process, by striving to include low-income people in the very development of policy solutions.
In March 2016, Cardinale incorporated SMART ALEC.  Dr. Farmer joined as a Board Member shortly thereafter, and Sherise Brown joined in 2017.
In June 2016, ALEC sent SMART ALEC a cease and desist letter in which the organization threatened to sue us if we did not stop using the name SMART ALEC.  We did a great many press interviews regarding our intentions to continue using the name SMART ALEC as we did not believe it was a trademark infringement.  Shortly thereafter, Dr. Farmer delivered a bouquet of yellow roses to the offices of ALEC's D.C.-based attorneys, saying, "Thank you for acknowledging us!  Signed, the SMART ALEC's."  We never heard from them again.
Since then, we have developed numerous model ordinances and best practice papers; several of our model ordinances have been adopted in Atlanta, Georgia; we gave engaged low-income people in the development of legislation, including the Stadium Neighborhoods Trust Fund in Atlanta; we developed an Affordable Housing Strategy including an Affordable Housing Inventory for the City of Clarkston, Georgia; we provided consulting services for three Atlanta Councilmembers and a local non-profit organization; and we undertook a Homeless and Low-Income Political Empowerment Program.
Today, we are currently focusing on publishing our existing Best Practice Papers, Model Ordinances, and other resources to our website; and creating more informational resources for local government officials and local advocates across the country, and especially in the U.S. South., that they can use to "adapt and adopt" best practices for affordable housing, democracy, and the environment, in their jurisdictions.
OUR BOARD
Matthew Charles Cardinale, Board President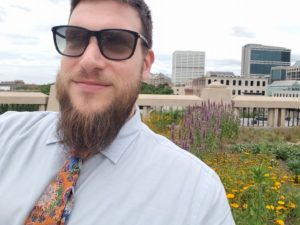 Matthew Charles Cardinale has some twenty years of advocacy and policy experience.  A formerly homeless teenager, he has written a memoir, Tales of Audacity at the Turn of the Millennium (2018), about his journey navigating the shelter system to become an advocate for progressive social change.
He is the founder and CEO of Atlanta Progressive News, an online, independent news service, founded in 2005.
He has an MPA from the University of New Orleans, an MA in Sociology from U.C. Irvine, and a JD from Gonzaga University School of Law.  At the age of 38, he recently went back to school to complete an LLM in Environmental Law through Vermont Law School, to support SMART ALEC's work on environmental policy development.
In 2012, he won a pro se lawsuit that had come before the Supreme Court of Georgia, Cardinale v. City of Atlanta, in which the Court struck down a secret vote taken by the City Council of Atlanta.
He has written several ordinances and resolutions that are currently law in the City of Atlanta and in other jurisdictions.  Cardinale enjoys helping jurisdictions to craft policy solutions that are appropriate for their needs and political climate.
Dr. Dwanda Farmer, Secretary and Treasurer
Dr. Dwanda Farmer is a community economic development expert, nonprofit thought leader, coach, and consultant specializing in affordable housing policy, finance, and development.
Having used every public financing tool available to support community economic development, Dr. Farmer has raised over one hundred million dollars to support the development of 2,500 units of housing (1,800 affordable) and over 500,000 square feet of commercial/retail space in various cities across the United States.
She has served the U.S. Treasury for fifteen years distributing over 26 billion dollars to economically distressed communities across the country to create quality jobs, community and commercial goods and services, healthy food finance initiatives, medical facilities, and environmentally sustainable developments serving low income people.
Dr. Farmer was a founding member of Fulton County Workforce Development Board and served thirteen years on the Executive Committee (1999-2012).  She chaired the Individual Training Account Committee (1999-2007) and provided training and job placement services for thousands of Fulton County residents.  Dr. Farmer also served as Chair of the Quality Assurance Committee (2007-2012) and was responsible for certifying 150 training institutions and ensuring program compliance.  Fulton County was the highest performing workforce investment board in the state.  In 2010, Governor Sonny Purdue (R) awarded Dr. Farmer the Governor's Community Service Award for her work on the Governor's Work Ready program.
Dwanda studied at Howard University and the University of Maryland and is a graduate of the University of Baltimore (Political Science).  She earned two Master of Science degrees from National Louis University (Human Resources/Organizational Development). Dr. Farmer is one of only ten people in the U.S. to earn a Ph.D. in Community Economic Development from Southern New Hampshire University.  She is a native of Baltimore, Maryland, where she currently resides and is employed by the Baltimore Housing Authority as the Manager of the Choice Neighborhoods Initiatives.  She also serves as Principal Consultant at The CED Doctor, LLC.
Sherise Brown